PORTRAIT COMMISSIONS
Sometimes I open commissions for portraits. They're fun to do, usually conducted through a series of email Q&As with the subject, who provides photos and videos for reference.
My approach to making them has changed over the years: I used to do close-ups of the faces, but found that I could actually get more personality and style into the image if I depicted people full-length and surrounded by places and things that were meaningful to them. Straight-on composition, playing with scale and a bit of surrealism helps to give a vaguely 'Wes Anderson' vibe, as well as making them interesting to look at.
All commissions go through a digital rough process, with the client getting to see what they'll receive in an accurate digital drawing before it is painted in gouache and pencil on paper.
Portraits are approximately A3 in size, cost £750 each and take 3-6 weeks to complete depending on the length of the ideas development stage. Please email me to enquire about booking availability.
Explanations for imagery provided beneath each portrait: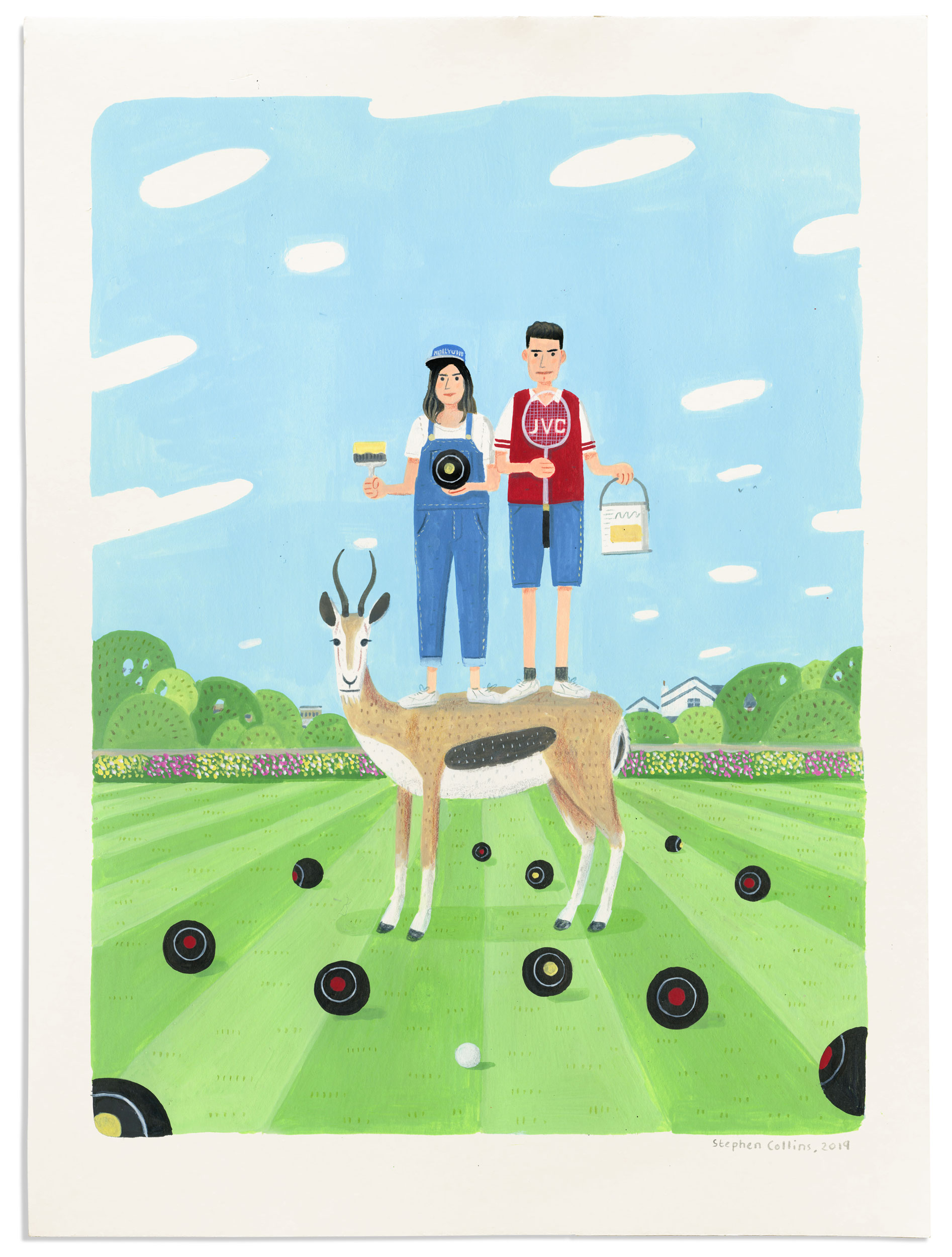 This couple were about to get married. They met at a pub called The Antelope, and enjoyed playing lawn bowls with the older folks at their local club. They were decorating their new house.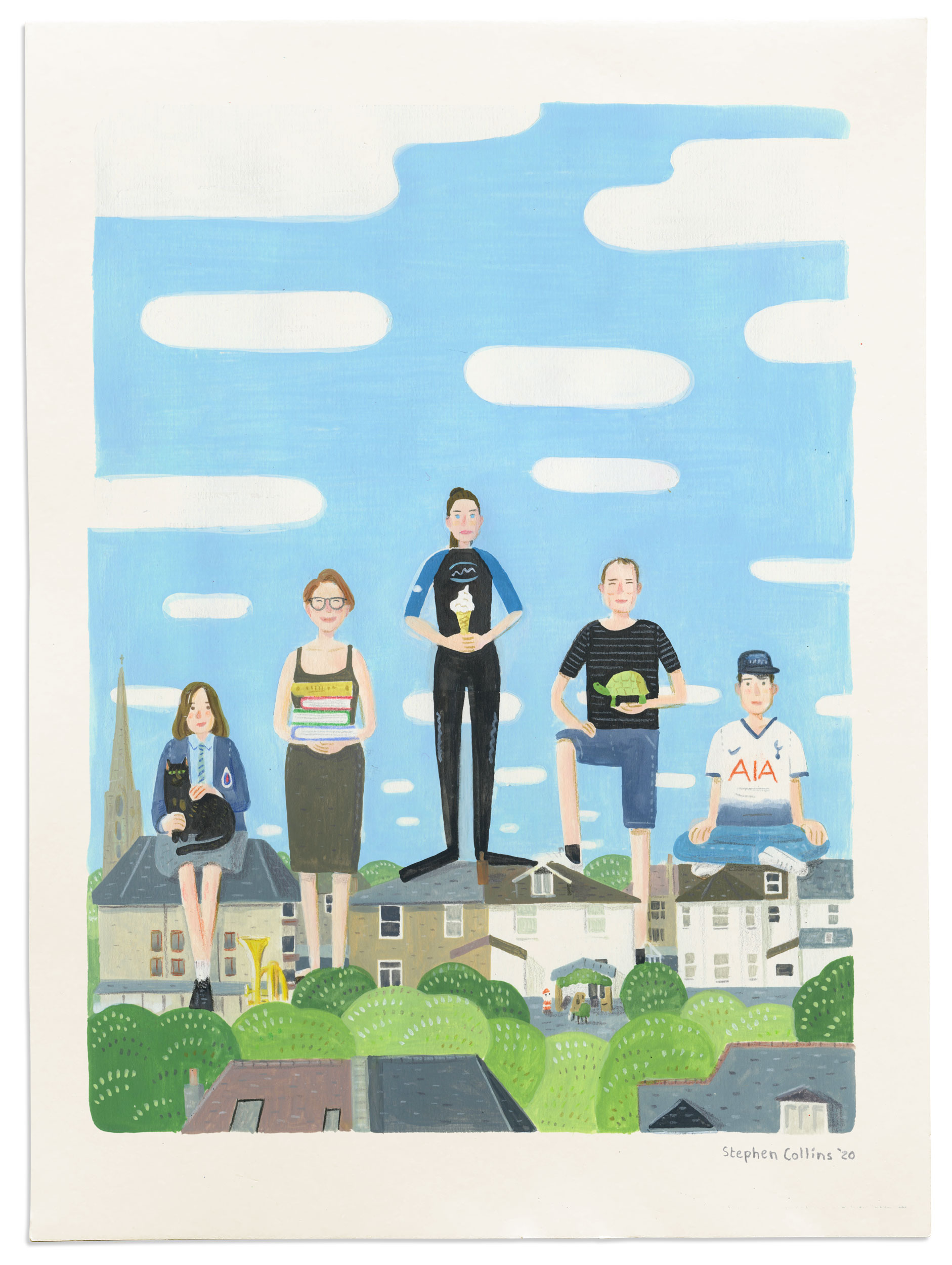 A family with various interests – reading, ice cream, surfing, etc. They often had family parties in their back garden patio 'pub', so I drew the back of their whole street, with their party space depicted in detail.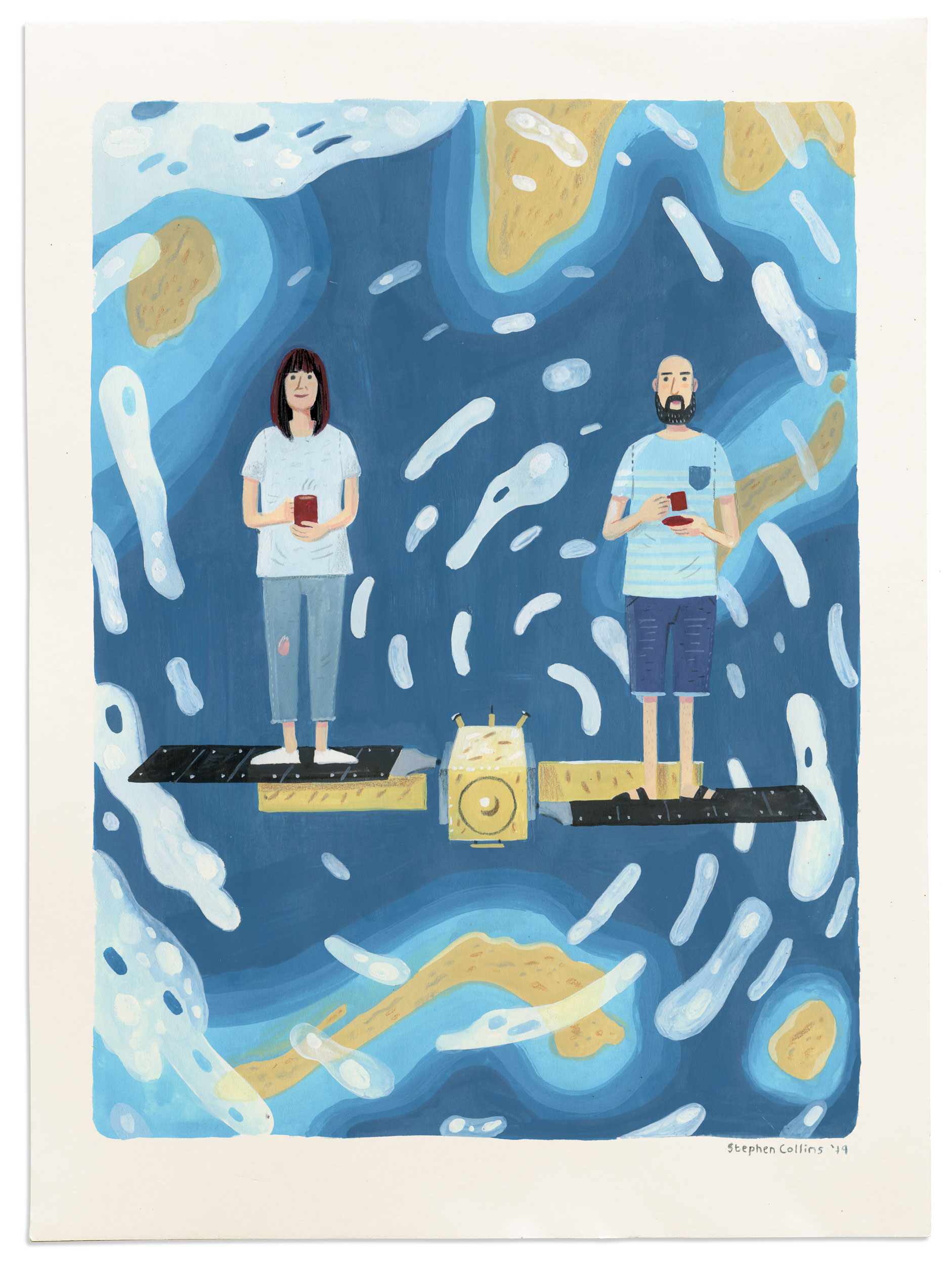 An astrophysicist couple who met while working on the same weather satellite, and who both loved their tea. The subject was a gift and the graphic simplicity of weather depicted from space helped with the look.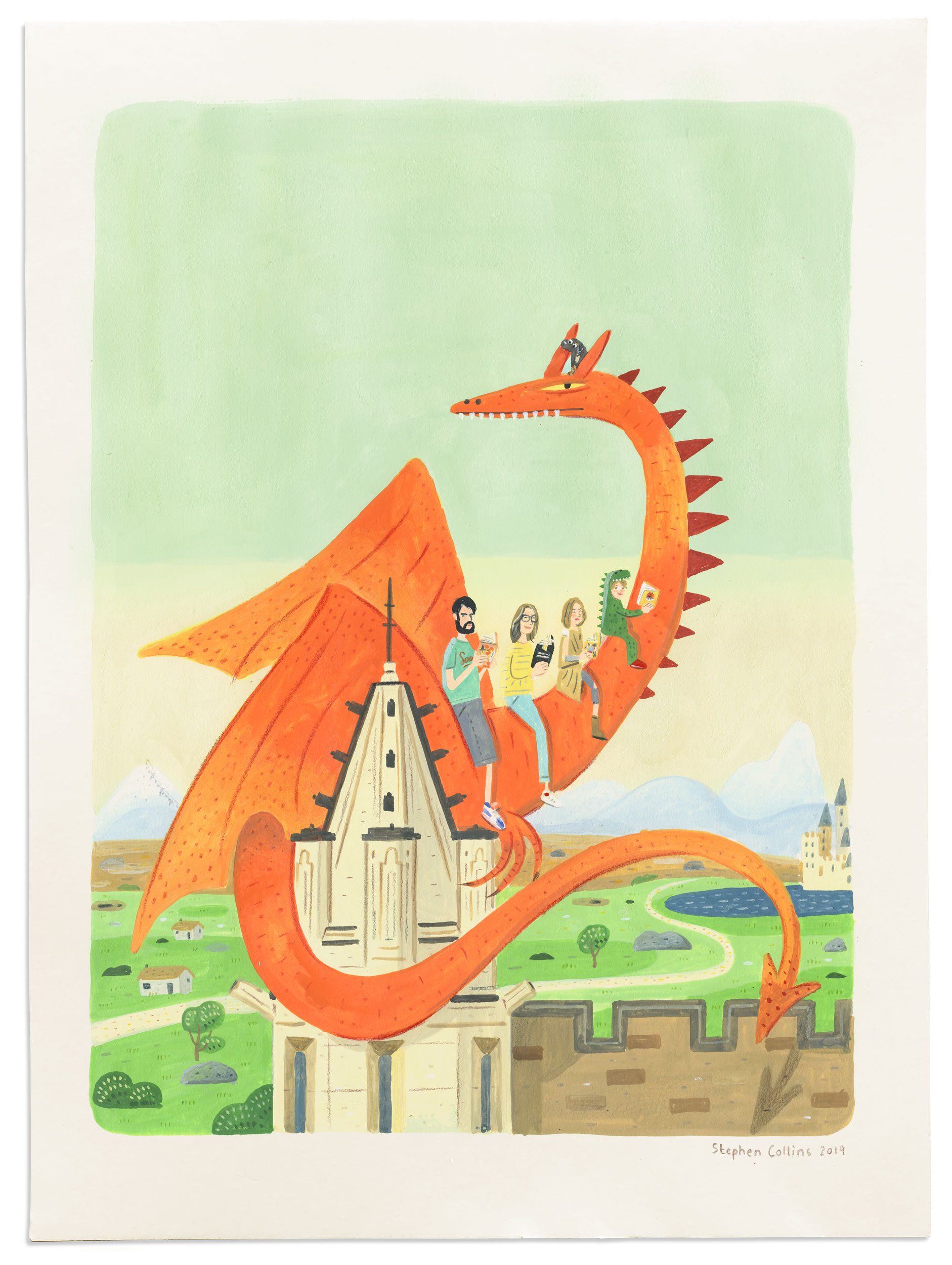 A family of fantasy fans, all avid readers, with a mum who worked as librarian in a beautiful turreted private school. As with all the portraits I do, a lot of photos of specific items of clothing (and their little dog) helped me to get the details right and make the painting 'theirs'.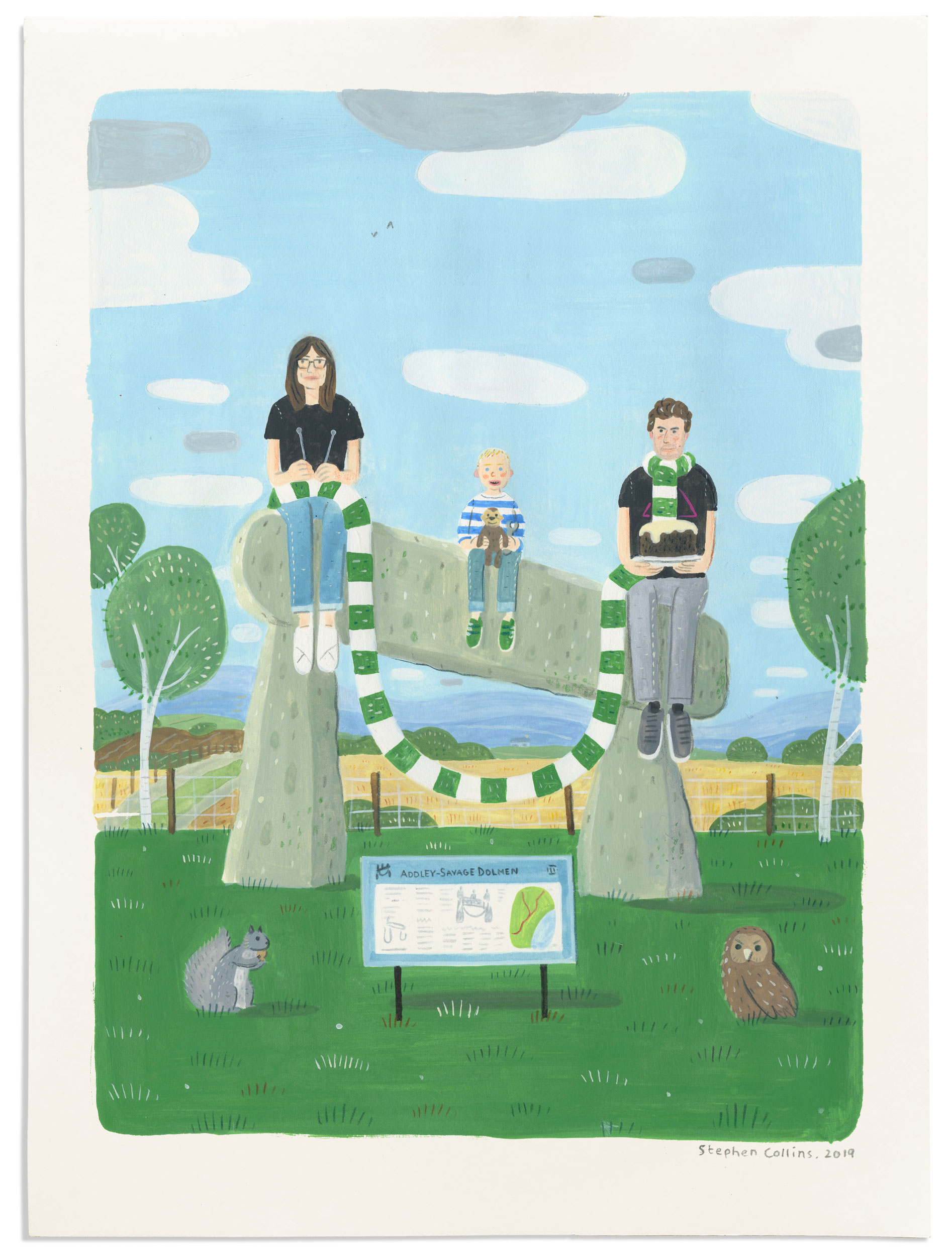 A family of Celtic fans who enjoy a historic site outing and bake a mean Guinness cake. I can't quite remember the significance of the owl and the squirrel, but I'm sure there was one.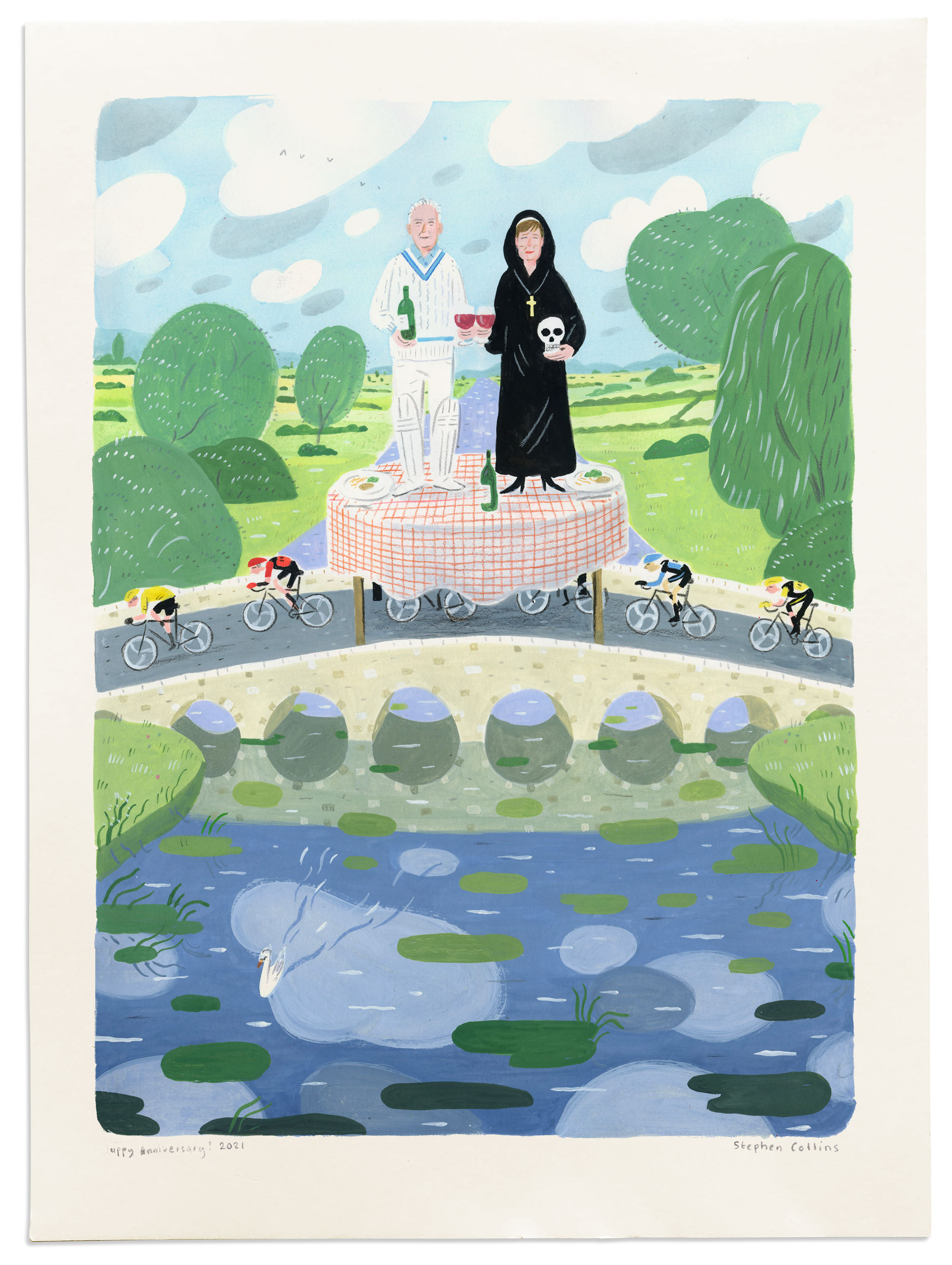 A couple who live by a beautiful Dorset bridge, enjoy visiting France for wine, food and cycling, and share a life history of cricket and am-dram (hence the nun costume in-joke).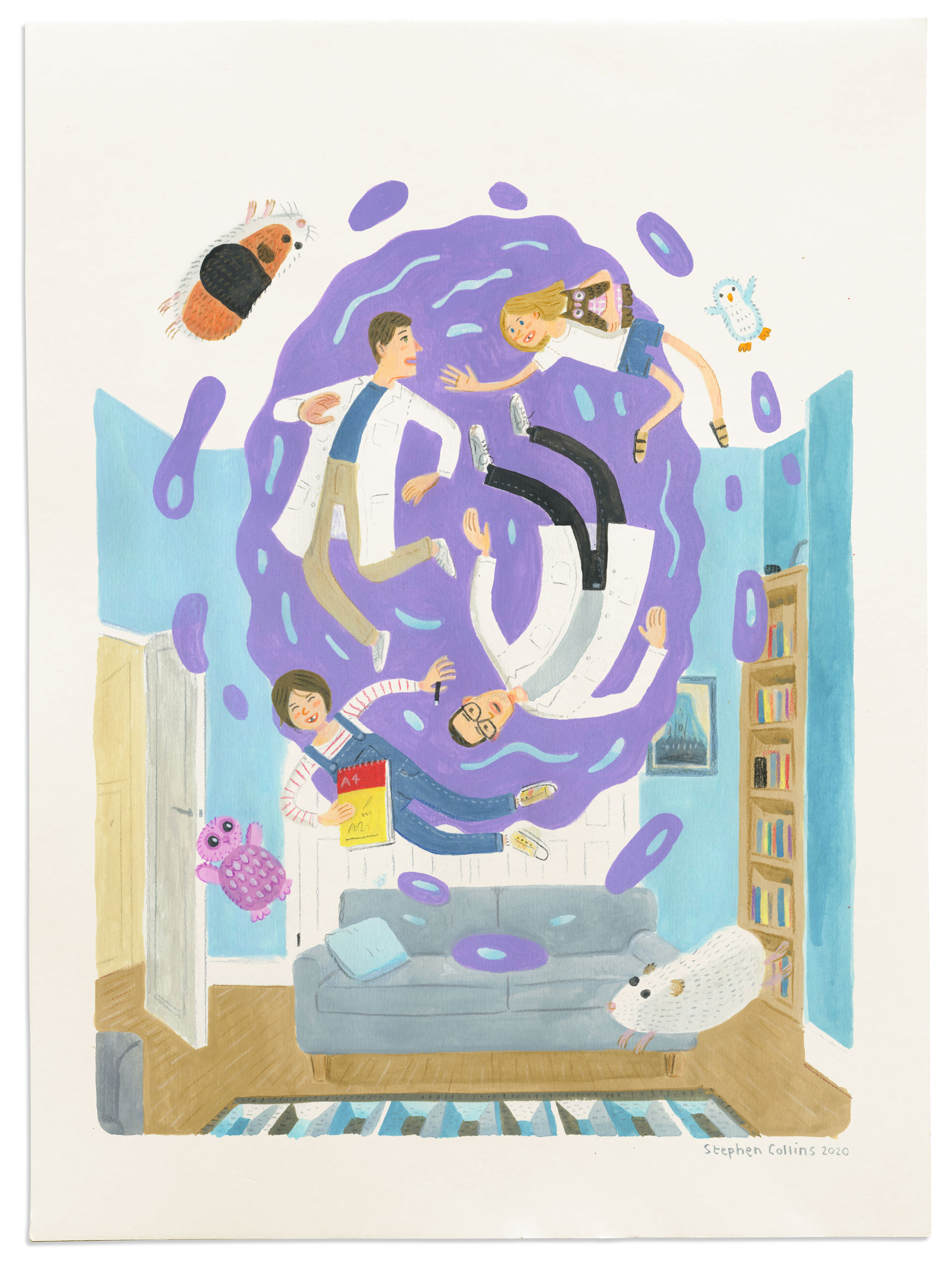 Two scientist parents who had an imaginative family game with their daughters about going through 'the portal' in their living room. Guinea pigs, favourite toys and the daughter's love of drawing all fed into the image. Even the drawing pad was her currently favoured brand to make a snapshot in time for the family to enjoy.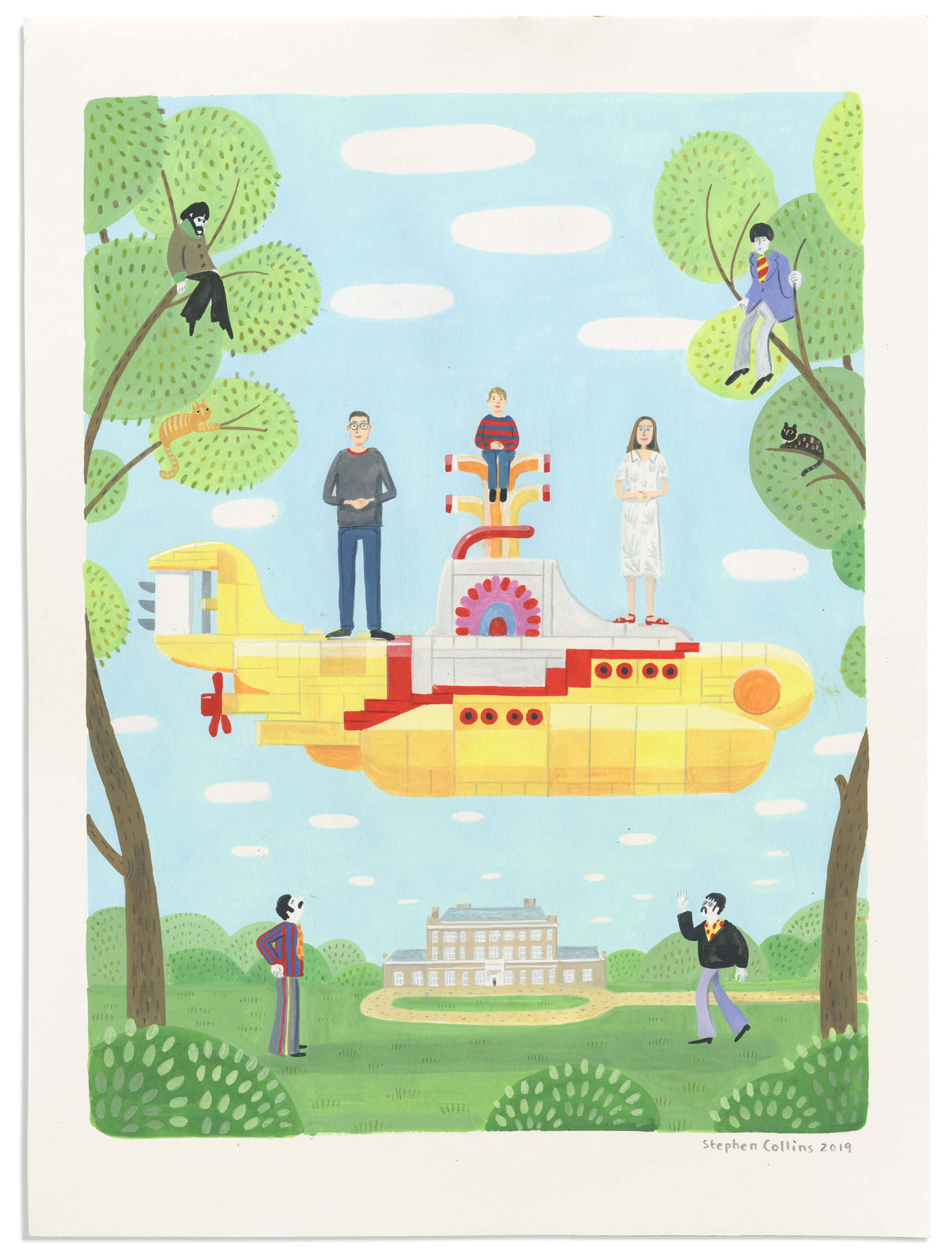 A family of Beatles fans whose child had just built the Lego Yellow Submarine. They enjoyed visiting the National Trust property pictured at bottom, and their cats can be found in the trees.
A group of siblings who grew up on a New Zealand farm sharing one Lego Duplo toy that they all remembered. As kids they would often sit out and look at the night sky for hours together, so I carefully matched the arrangement of the stars to precisely what they would see.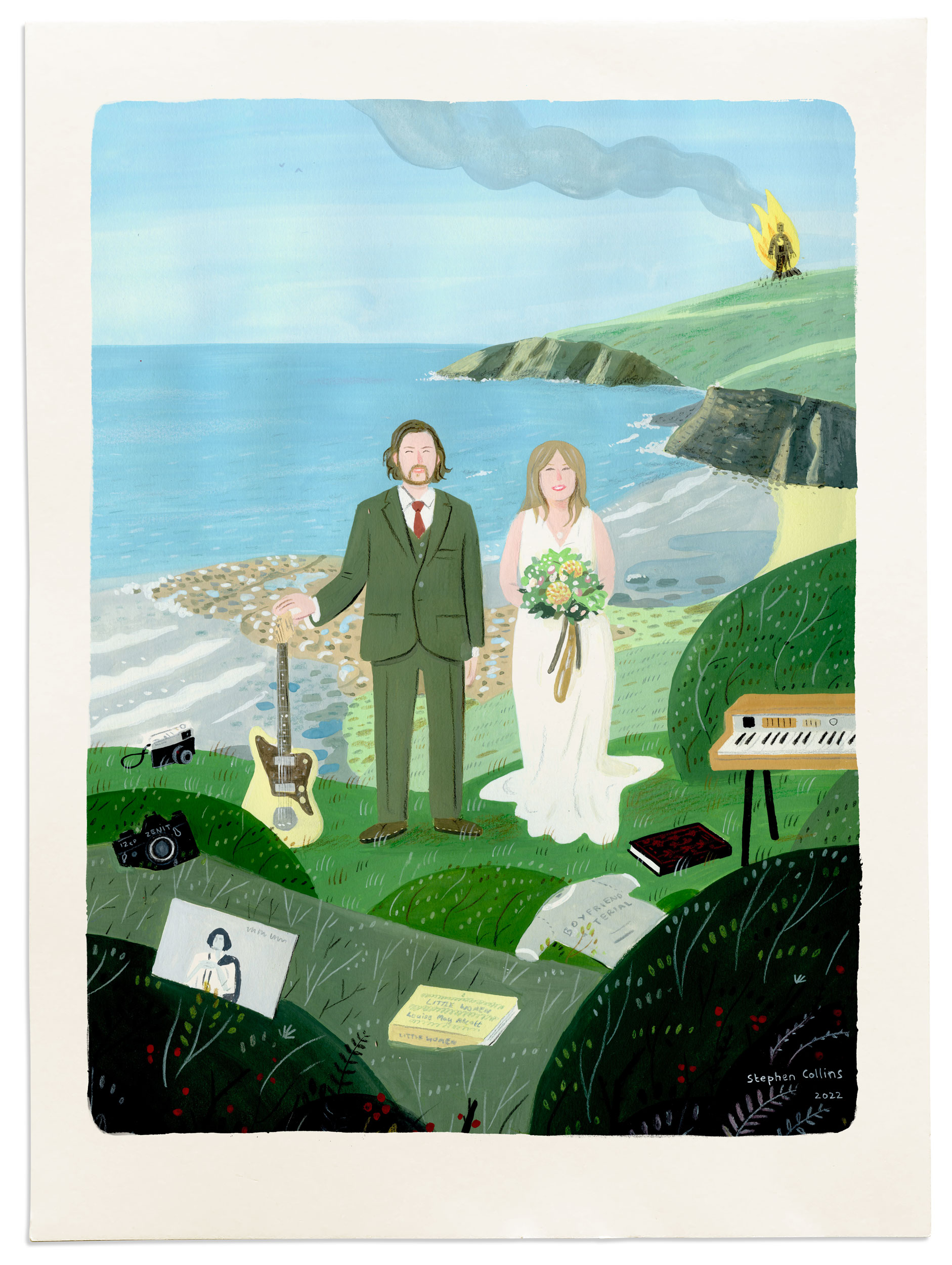 A wedding portrait for a musical, photography-loving couple based in Cornwall who are both fans of The Wicker Man. I made a point of getting the bouquet and wedding clothes accurate.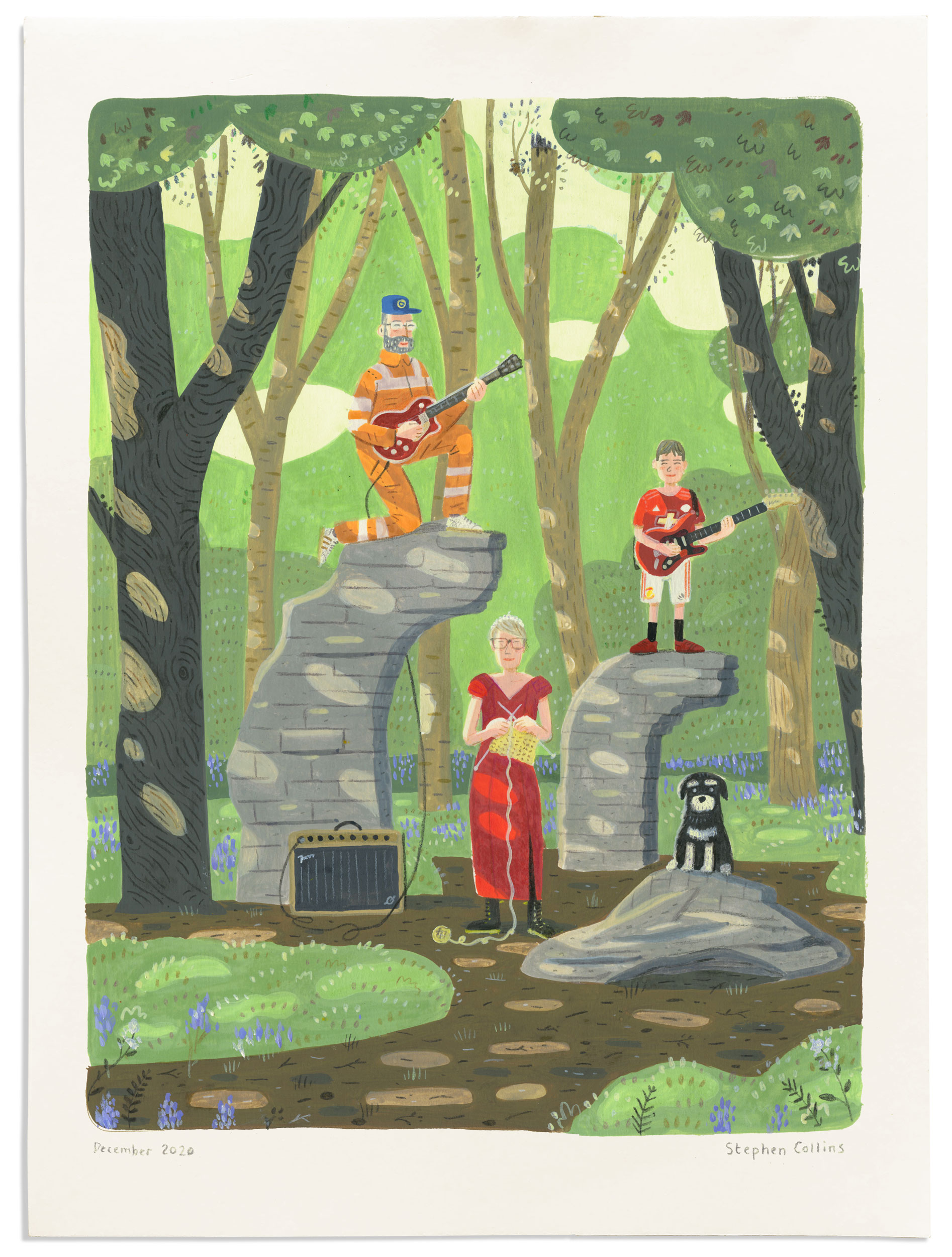 This family had a special place: some ruins in the woods which they would visit on walks together during lockdown. They also love Man United, knitting and playing guitar together.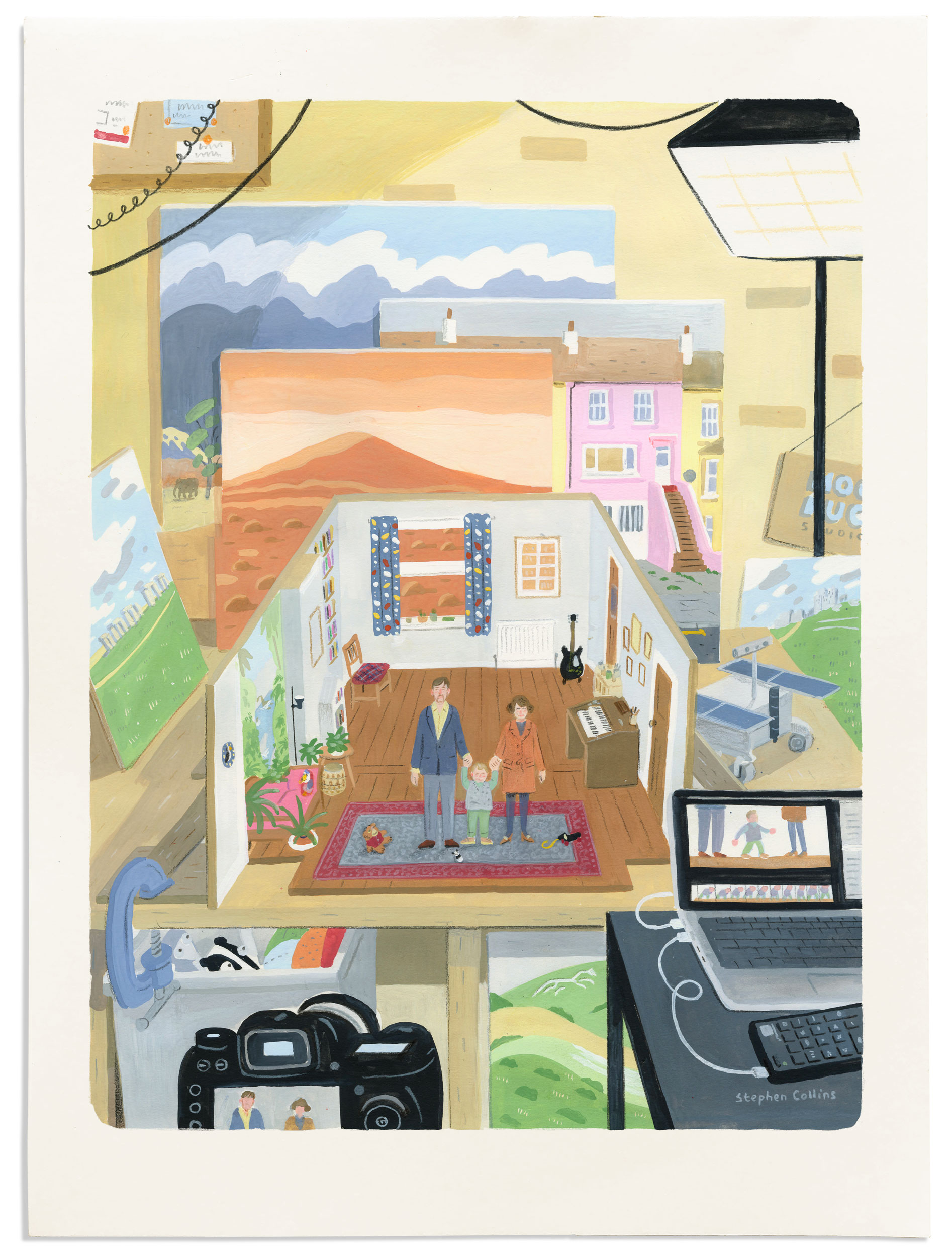 This subject was my favourite: a professional stop-motion animator and her partner who is a musician and artist. They have a studio in the basement, where they once made film about a Mars rover. I hit on the idea of having a stack of matte painting backdrops behind their living room 'set', each depicting special places from their lives together. Their little boy was just learning to walk at the time, hence the animation 'walk cycle' depicted on the laptop. All tech and setting details were carefully researched with the (very) patient help of the subject.